A kaleidoscope of pencils, crayons and tissue paper spreads across the kitchen table as 10-year-old Izzie carefully folds a handwritten letter and 8-year-old Evie arranges the items in her gift bag.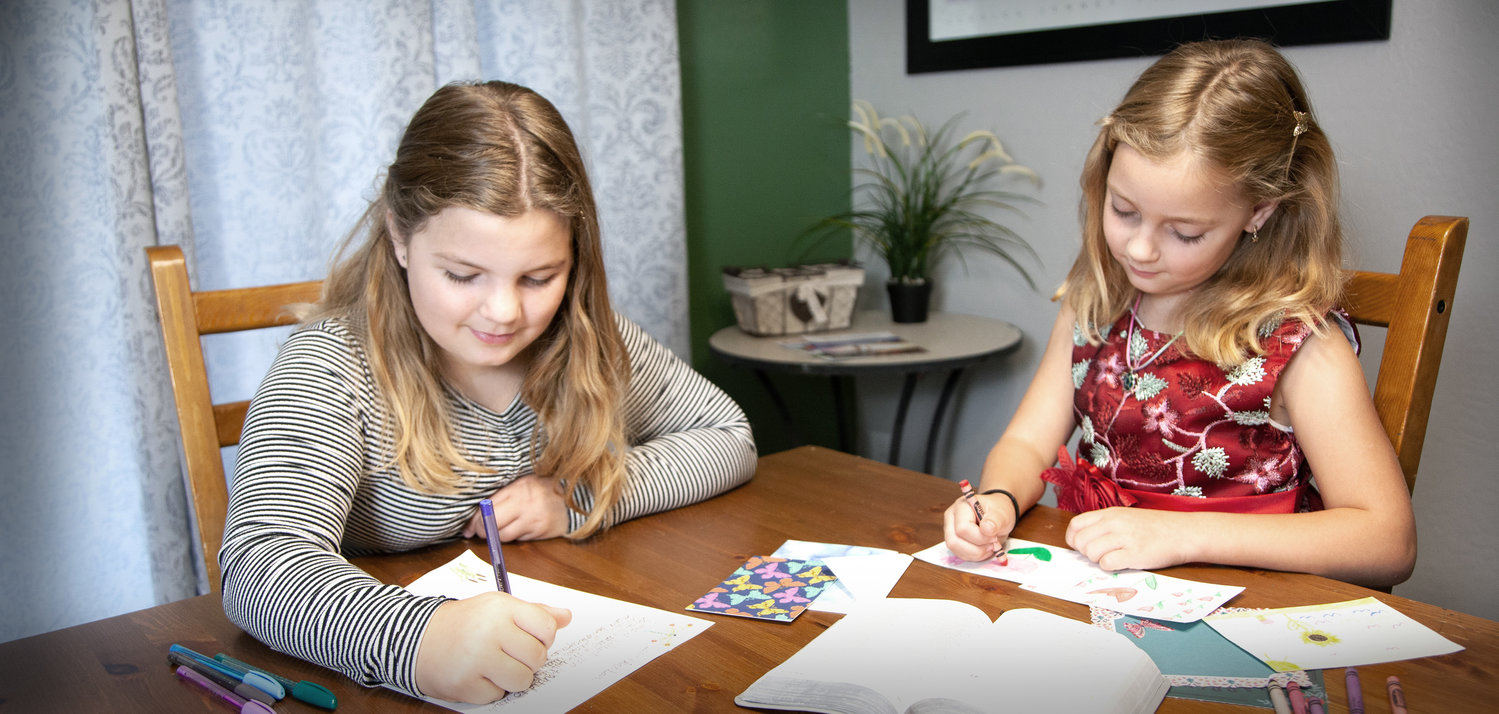 During the pandemic, the Tigner siblings have sent their letters and gift bags to older ones in their Gilbert community, according to a release.
"We do this to show how we care about them," said Izzie.
The children's efforts have touched hearts.
Their great-grandmother, who lives in an assisted living home, was especially moved when she and her neighbors received cards and a care package from the Tigner family at the beginning of COVID-19.
"She really appreciated the work that [Izzie and Evie] put into making cards for her and her neighbors," explained Paula, the girls' mother. "A lot of them don't have family anymore, so they really liked it."
Theirs is one of many Jehovah's Witness families helping teach their children powerful object lessons in compassion and community service.
Love of neighbor is a central tenet of Christianity for Jehovah's Witnesses. It is the driving force behind the organization's public ministry, the release states.
"Jesus taught that there's more happiness in giving than in receiving," Robert Hendriks III, U.S. spokesman for the organization, said in the release. "So when children are taught to recognize the needs of others and reach out to them from the heart, they are learning life skills that will contribute to a happy life and also benefit society at-large."
In 2013, Jehovah's Witnesses debuted a video series designed to help parents cultivate qualities like kindness and empathy in young children. The animated adventures of Caleb and Sophia, a lovable brother-sister duo, teach lessons in everything from sharing with others to respecting people of all races.
Some titles in the Caleb and Sophia video series — available on jw.org — include:
"Respect Older Ones"
"Reaching Out"
"Love All Sorts of People"
"Giving Makes You Happy"
"Be Kind and Share"
"Help Others"
"Love Your Neighbor"
Jude Nordgren, 9, and his sister, Rain, 7, have sent dozens of homemade cards and drawings to fire and police stations, social workers, and nursing homes around their hometown of Waterford, Virginia.
Their cousin Kaylee, who has Down syndrome, takes part by painting colorful scenes depicting the animals she hopes to play with in the earthly paradise described in Scripture.
"I hope people like my dolphins," said the 15-year-old.
In September, the Purcellville, Virginia Police Department took to its Facebook page to thank the Nordgren children for their cards and artwork: "Thanks for thinking of us and helping to brighten our day! #communitykindness #thankful #grateful."
"Despite everything, they're thriving," said Nordgren. "They've experienced the joy that comes from giving, and that's a priceless feeling."
For more information on the activities of Jehovah's Witnesses, go to jw.org.