KADAMJAY, Kyrgyzstan—On December 14, 2011, the chief investigator of the Kadamjay region, together with the regional prosecutor, terminated criminal proceedings against two of Jehovah's Witnesses, 18-year-old Iskandar Kambarov and 22-year-old Jonibek Nosirov. Several weeks earlier, the young men were released from pretrial detention after being imprisoned for more than nine months.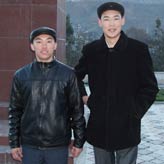 On January 29, 2011, Kambarov and Nosirov were arrested and imprisoned based on a false charge that they possessed two DVDs from a banned, extremist Islamic organization. On May 18, 2011, the Kadamjay Regional Court sentenced the two young men to seven years' imprisonment. However, on June 22, 2011, the Batken District Court (Appeals Instance) cancelled the trial decision, finding several major errors in the criminal investigation. The appeal court ordered a new investigation and the local prosecutor submitted the case to the Supreme Court. On September 13, 2011, the Office of the Prosecutor General of the Kyrgyz Republic withdrew that appeal, upholding the appeal court decision.
In ruling that the criminal case should be terminated, the chief investigator of the Kadamjay Region found that there was absolutely no basis to the charges. Furthermore, he observed that, as Jehovah's Witnesses, the two young men "have nothing in common" with the banned Islamic organization.
"Mr. Kambarov and Mr. Nosirov are overjoyed that their ordeal is now over and they are finally free," states Nurlan Kachiev, an attorney who participated in the proceedings. He added, "They extend their sincere gratitude to the chief investigator and to the prosecutor of the Kadamjay Region for making an objective ruling based on the facts and the law. They are also grateful for the concern and interest shown by senior Kyrgyz officials."
Media Contacts:
J. R. Brown, Office of Public Information, tel. +1 718 560 5600
Kyrgyzstan: Hamit Iskakov, tel. +996 778 037 503
Belgium: The European Association of Jehovah's Christian Witnesses, tel. +32 2 782 0015
Source: http://www.jw-media.org/kgz/20111222.htm