Asylum means Olga Ponomareva won't be deported to a prison sentence in Russia. The immigration judge said hers was the best documented asylum case he had ever seen.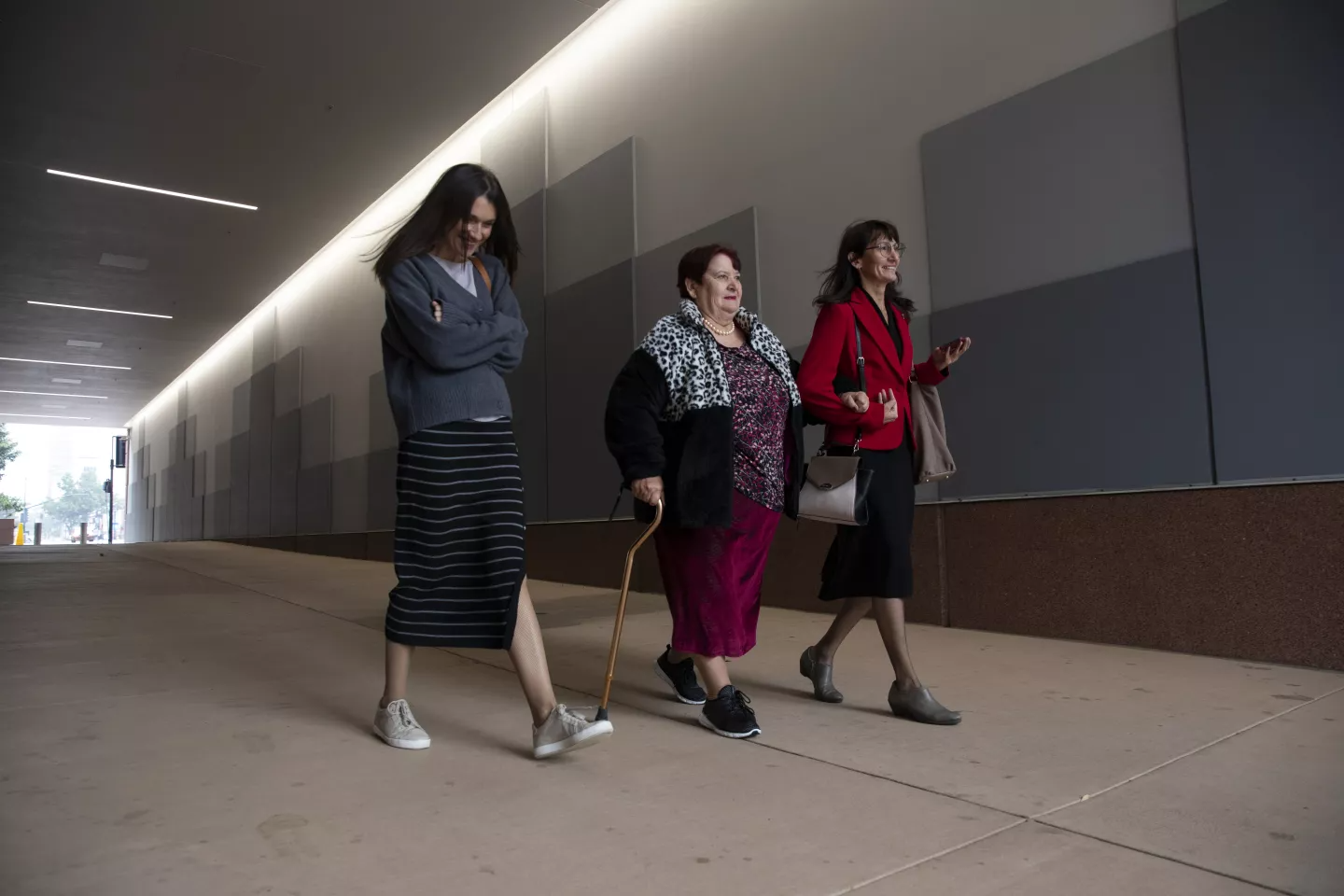 When a San Diego immigration judge told Olga Ponomareva that she would be allowed to stay in the United States, she wanted to leap in the air.
She and her 72-year-old mother had just won asylum because of the religious persecution they experienced as Jehovah's Witnesses in their home country of Russia. She maintained her composure in the courtroom, but inside, she was elated, knowing her life was safe.
"When he finally said he was granting asylum, I was overwhelmed with joy," Ponomareva, 48, recalled, speaking through a Russian interpreter.
She and her mother soon left the courtroom to tell the news to their friends who were in the waiting room — Anna Ermak, who fled with Ponomareva and whose asylum case is still pending, and Alex Voloshanovskiy, who is part of the same Russian-speaking Jehovah's Witness congregation in Encinitas.
"I felt that joy," Ermak said in Russian. "I was also overwhelmed with joy."
Ermak, 40, is hopeful that this means she, her husband and two children will also win protection in the United States. After the hearing, the two families celebrated in their shared home in Escondido with a dinner of Russian dumplings.
Ponomareva and Ermak fled Russia together in 2021 after they were charged with extremism for talking about the Bible with a neighbor during a private study session. The neighbor had recorded them and reported them to the police. They made it as far as the nearby country of Georgia with Ermak's baby Konstantin before waiting for the rest of their families to join them.
Russia banned Jehovah's Witnesses from practicing their religion in 2017. About 100 were being held in prison there as of October 2022, and hundreds more had been charged and arrested, according to the U.S. Commission on International Religious Freedom.
After Ponomareva and Ermak left the country, they were sentenced in absentia, Ponomareva to five years and Ermak to four years and six months — according to documents in their asylum cases.
Fellow Jehovah's Witnesses, aware of the danger they faced, helped them all along their journey.
The two families eventually made their way together to the U.S.-Mexico border. Border officers turned them away twice when they walked up to ports of entry to request protection because of a policy known as Title 42 that has been in place since March 2020.
The Title 42 policy says that border officials can block asylum seekers and other undocumented migrants from crossing onto U.S. soil and expel those that do back to the country they crossed from or their home countries without processing asylum requests. The policy remains in effect for now while multiple court cases fight over its future.
The families then tried driving through the car lanes at the Otay Mesa Port of Entry to reach U.S. soil and request protection. They made it through on their second try in June and were able to be processed for asylum — the U.S. government generally doesn't expel Russians because of logistical complications.
They found a house to rent in Escondido and waited for their asylum cases.
Ponomareva and her mother's hearing happened on Jan. 5 — the same day that President Joe Biden announced, among other policies, an expansion of Title 42 to include more nationalities than it had previously.
That morning, Ponomareva, her mother and Ermak left their home just after 7 a.m. to go to the immigration court in downtown San Diego. The car was quiet, heavy with the pressure of the possible outcomes.
"The whole week I was very much stressed, and as we were going to the court I was still feeling this anxiety," Ponomareva said.
Meanwhile, friends wrote to them to wish them luck. Ponomareva said she found comfort in the fact that Ermak and Voloshanovskiy were there in person to support her. They were not allowed inside the courtroom because they were also scheduled as witnesses for the hearing.
Another five people, including university professors who are experts on the conditions for Jehovah's Witnesses in Russia, were queued on the courtroom's video conference application, waiting to testify.
In the end, none of them were needed. Immigration Judge Scott Simpson offered an abbreviated hearing format in which he and the U.S. Immigration and Customs Enforcement attorney representing the U.S. government in the case would ask Ponomareva and her mother questions.
Simpson asked about her beliefs as as Jehovah's Witness and how Russia's charging her as an extremist had impacted her.
"It was practically impossible to continue to practice the religion," Ponomareva told the judge through a court interpreter. "We had to hide from everyone, even our neighbors."
Simpson also asked about when government doctors had forced her to have a blood transfusion after a surgery even though it is against her beliefs.
At one point, Simpson paused the questioning to ask Ponomareva's mother, who was trembling with nerves, if she was alright.
At the end, Simpson made clear how much the case had impressed him.
"Through the assistance of your attorney, this has been the most well-documented asylum case I have ever seen," he told Ponomareva.
It was the first immigration case that attorney Dan Price, whose career has mostly involved tax law, had ever taken. He spent hundreds of hours on the case working pro bono to gather a variety of experts and to piece together more than 1,400 pages of evidence to submit to the judge before the hearing.
"I've never been so motivated in my life on a case," he said. "I felt an overwhelming sense of responsibility to these families because of the potential consequences."
He is also representing Ermak and her family in their case.
The government attorney opted not to appeal the decision in Ponomareva's case, so she now knows that she will be allowed to stay as a permanent resident — and perhaps one day a citizen — of the United States. That also means she won't be going to a Russian prison.
She's a couple of months away from completing her certification to become a caregiver. And now that the case is over, she's hoping to devote more time to ministry.
She goes often to La Jolla Shores to stand with a display of information about the Bible and Jehovah's Witnesses, mostly in Russian and Ukrainian.
"It's something that I want to do because we're talking to people how to lead a happy life, how to get to know God, and I will be able now to do this on a larger scale," she said. "Up until this point, getting ready for this court hearing was consuming a lot of my time. Now that time is available that I'll be able to spend in ministry."