SAN DIEGO — Twice a week, Olga Ponomareva stands on a sidewalk in La Jolla Shores with a display of pamphlets about the Bible, most in Russian or Ukrainian.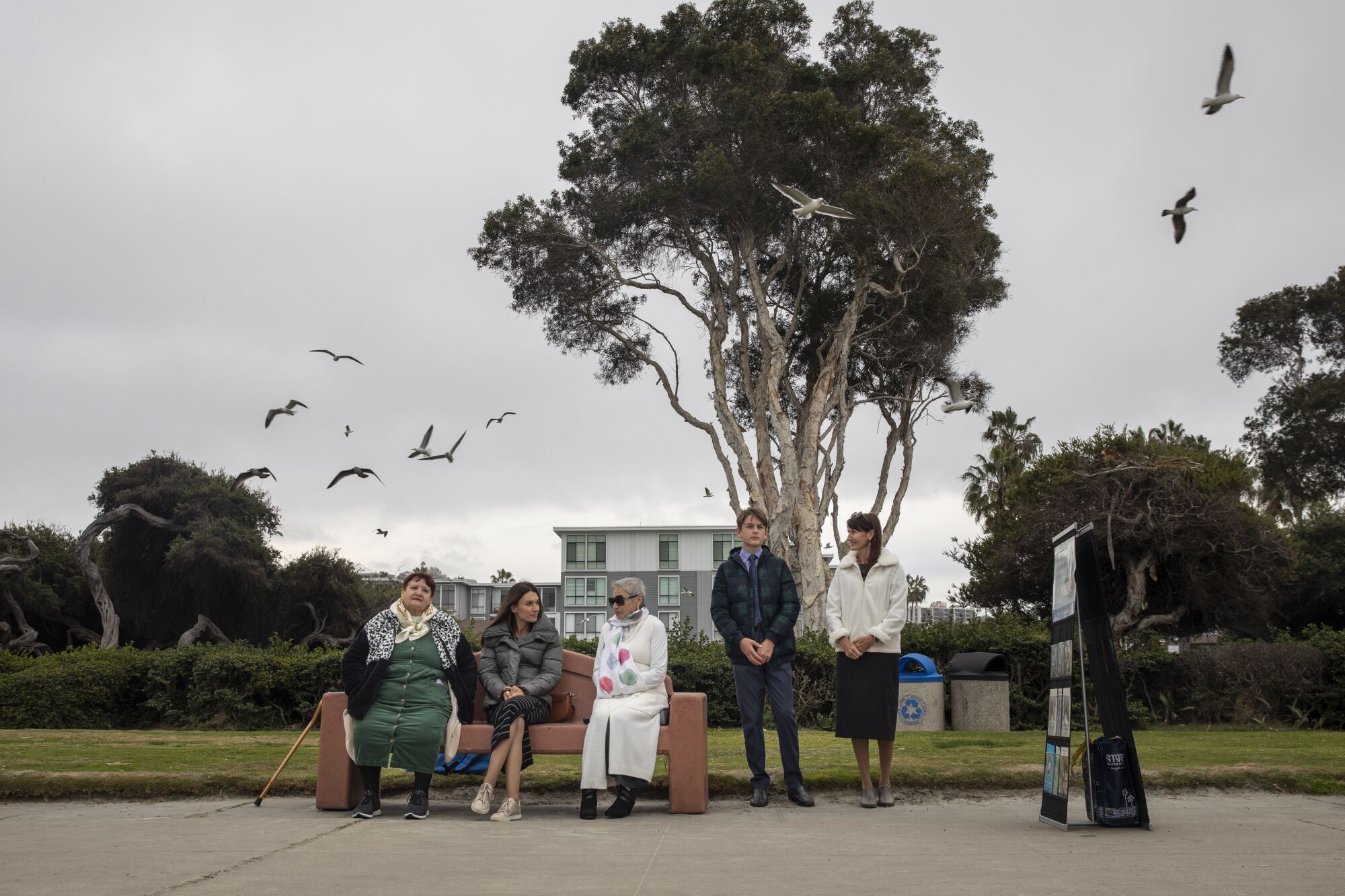 For Ponomareva, these moments are an expression of her faith and of her freedom. They are also a complete contrast to the restrictions that she experienced as a Jehovah's Witness in her home country of Russia.
"What brings me the most joy is that I can simply talk to people about my God Jehovah and not be afraid," Ponomareva said through a Russian interpreter.
The Russian government has targeted Jehovah's Witnesses, calling them extremists and sentencing many to years in prison for practicing their religion.
Ponomareva, 48, and her friend Anna Ermak, 40, were among those charged with extremism there for the simple act of talking about the Bible with someone who had asked to study with them.
The two fled the country while their criminal cases were still in progress. They were sentenced to prison terms in absentia — Ponomareva to five years and Ermak to four years and six months — according to documents in their asylum cases.
The women and their families were among the many Russian asylum seekers who crossed the San Diego-Tijuana border through the port of entry car lanes in 2022 in search of protection.
Now, they are all are living together in a house in Escondido, Calif., waiting to find out whether the United States will grant them asylum.
NO WAY TO KNOW
Their cases appear strong — Russia's persecution based on their religious practices is well-documented in both news articles and court records. But, because of inconsistencies in the U.S. asylum system, there is no way to know whether they will be granted protection until they reach the end of their immigration court proceedings.
"There is always a thought of what if — what if we will be deported," Ponomareva said.
When Ponomareva was a teenager, she went to visit her aunt in Uzbekistan and was introduced to the beliefs of Jehovah's Witnesses.
Over the next several years, she attended conventions, Bible studies and services before deciding to be baptized.
Ermak was introduced to the religion through her landlord when she was about 20.
Ponomareva and her mother, Ekaterina Ponomareva, now 72, moved to the small town where Ermak lived in 2016. The two met at the local Kingdom Hall, the name of the place of worship for Jehovah's Witnesses, and became friends.
In 2017, Russia banned Jehovah's Witnesses from practicing.
100 HELD IN PRISONS
Since then, according to the U.S. Commission on International Religious Freedom, more than 600 Jehovah's Witnesses have been charged with "organizing the activities of an extremist organization." Nearly 350 have been detained or arrested, and about 100 were being held in prisons as of October.
Since they were no longer allowed to worship in their Kingdom Halls, Jehovah's Witnesses began meeting in small groups in homes until that, too, became unsafe. Then they began meeting on Zoom in 2019.
"We had to take extreme precautions out of fear that our neighbors might report our worship to the police," Ponomareva wrote in her asylum application. "While attending congregation meetings over Zoom, we closed all of the windows in our house and sang songs to Jehovah very quietly to avoid detection."
In 2020, Russian federal security police, known as the FSB, recruited a woman who had appeared to show interest in learning about the Bible from Ponomareva and Ermak, according to Ermak's asylum application. The woman secretly recorded their study sessions and gave the recordings to the police.
In 2021, the FSB searched both women's homes, and Russian authorities initiated a criminal case against Ponomareva and Ermak. They attended the first few hearings and then decided to flee.
A FLIGHT TO GEORGIA
They made their way to the border with Belarus, where they were able to cross and take a flight to Georgia, a country that does not require visas for Russian travelers.
But they did not yet feel safe. They knew that the governments of Georgia and Russia worked closely together, they said, and they felt fear anytime they saw Georgia police or a Russian license plate on a car.
"We were constantly afraid," Ermak said.
They tried to figure out where they could go that they would be truly safe and decided to head to the United States.
They learned from websites about the path that many Russian asylum seekers take through Mexico, from Cancun to Tijuana. Mexican immigration officers look for people who appear to be heading to the United States and stop them from advancing, so the websites teach asylum seekers to blend in with tourists going on vacation.
The two families arrived in Cancun in the spring of 2022. They spent almost a week there before moving on to Tijuana.
At the Tijuana airport, immigration officials stopped and questioned them. The families had to show that they had return flights to Russia before they could continue. They had bought those flights, knowing those tickets would never be used.
TURNED AWAY
After catching and recovering from covid-19, they tried twice to go on foot to the U.S. via ports of entry, but both times they were turned away by Customs and Border Protection officers.
The refugees decided to try crossing in a car — a strategy used by many Russian asylum seekers to get onto U.S. soil before they are turned away.
It took two tries for the families to reach U.S. soil crossing through the Otay Mesa Port of Entry in June.
"Once we crossed the border, it was the very first time for a long period that I finally felt that I am safe," Ponomareva recalled.