In June 1942, Judith Hochegger sat in a German jail cell, hours from her execution. Her situation looked hopeless. Her "crime" was following a religion that Nazi leader Adolf Hitler didn't like – the Jehovah's Witnesses.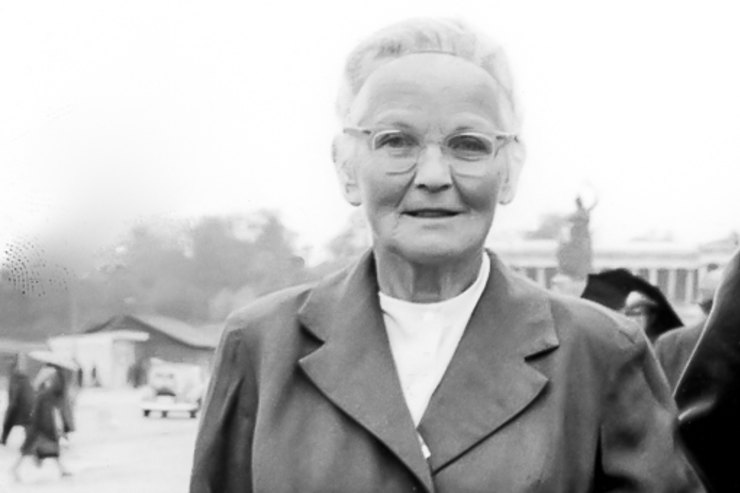 But there was an extraordinary reprieve. She prayed for God to save her, and at 3am, an hour before the planned beheading, Hochegger had a stroke and was taken to hospital. The execution was called off.
In 1940, she had been "witnessing", or preaching to colleagues, at a factory where she worked as a cleaner and commented that a picture of Hitler should be cleaned.
She was dobbed in and police found copies of the banned Jehovah's Witnesses magazine The Watchtower in her apartment in the Austrian town of Waidhofen, west of Vienna. She was tried and jailed in Aichach, Germany.
After two years, she refused to stop preaching in prison and was sentenced to death. The Nazis offered to free Hochegger if she signed a document renouncing her beliefs, but she refused.
After the stroke and cancelled execution, Hochegger was resentenced and sent to Ravensbruck concentration camp, north of Berlin, where she was subjected to starvation, disease and physical abuse for the next three years.
In later life, after migrating to Moe in the Latrobe Valley, about 135 kilometres south-east of Melbourne, she would tell her daughter, Louise Gahleitner, of her horrific experiences.
Gahleitner says her mother recalled guards spraying water on inmates outside in winter, killing many of them. Hochegger and her friends would sing hymns and hold each other.
"Clothes started to freeze, the body went numb, and they didn't feel anything," Gahleitner says.
Gahleitner, now 92 and a great-grandmother, recently recorded her family's extraordinary survival story on video for the first time, shared exclusively with The Age and The Sydney Morning Herald.
In the lead-up to International Holocaust Remembrance Day on January 27, she wants to raise awareness about how Jehovah's Witnesses were persecuted for refusing military service, for not joining Nazi organisations, or for not pledging allegiance to Hitler.
According to the church, under the Nazi regime, about 10,000 Jehovah's Witnesses were sent to prisons and camps, and more than 1500 were murdered.
Gahleitner was one of 860 children taken from their families; she did not see her mother for five years, from the ages of 10 to 15.
She was sent to foster homes. At the first one, she was exploited as a servant and ran away, sleeping in an empty house until a social worker sent her to a family in Hayingen, Germany, that treated her well.
Gahleitner vividly remembers the joyful reunion with her mother.
In May 1945, after Hochegger was liberated from Ravensbruck, so determined was she to see 15-year-old Louise that she walked the 750 kilometres to her.
Her mother was "skin and bones" and wore her blue and grey striped camp jacket.
"She said, 'You're not my Louisa, you are too tall.' When she left me, I was little. I was now a head taller than she was.
"Then she gave me a big hug and we both started to cry. That's when I realised, my mother is back."
Gahleitner says her mother – who joined Gahleitner and her husband Karl in Moe in 1964 aged 65, and who died there in 1979 aged 81 – had a hard life.
She was cast out by her Catholic family aged 14 when she converted to the Jehovah's Witnesses, and in 1930 she was abandoned by her husband when she was pregnant with Gahleitner. Her son, Kornelius, died fighting in World War II in Greece.
Gahleitner says she cannot believe that "a person can go through so much", but that Hochegger was a loving person and was never bitter or angry.
In her later years, Hochegger worshipped at the Jehovah's Witnesses Kingdom Hall in Moe.
She forgave those who persecuted her.
"Most people wouldn't [forgive them] but my mother wasn't the type," Gahleitner says. "She knew God will take care of it. She was such a lovely person. She believed in God and God was her leader and whatever she felt to do, to please God, she did. And anger is not what pleases God."
She admires her mother and other Jehovah's Witnesses for their integrity. "Sign the paper and stay alive, that was their choice, but they decided to keep their faith and die for it.
"She was a very humble person but also very firm. She was a very strong-willed person."
Brad Hall, a Melbourne-based Jehovah's Witnesses spokesperson, said he felt overwhelmed when he heard Gahleitner's story. He had never met a Jehovah's Witness survivor of Nazism and hadn't known there were any living in Australia.
Hall said Jehovah's Witnesses are still persecuted in countries such as Russia and Eritrea, where followers of the faith have been jailed and tortured.