Construction is well underway on a new place of worship for Jehovah's Witnesses (JWO) in Haida Gwaii, Max Correia, the local spokesperson for JWO in B.C. said Jan. 13.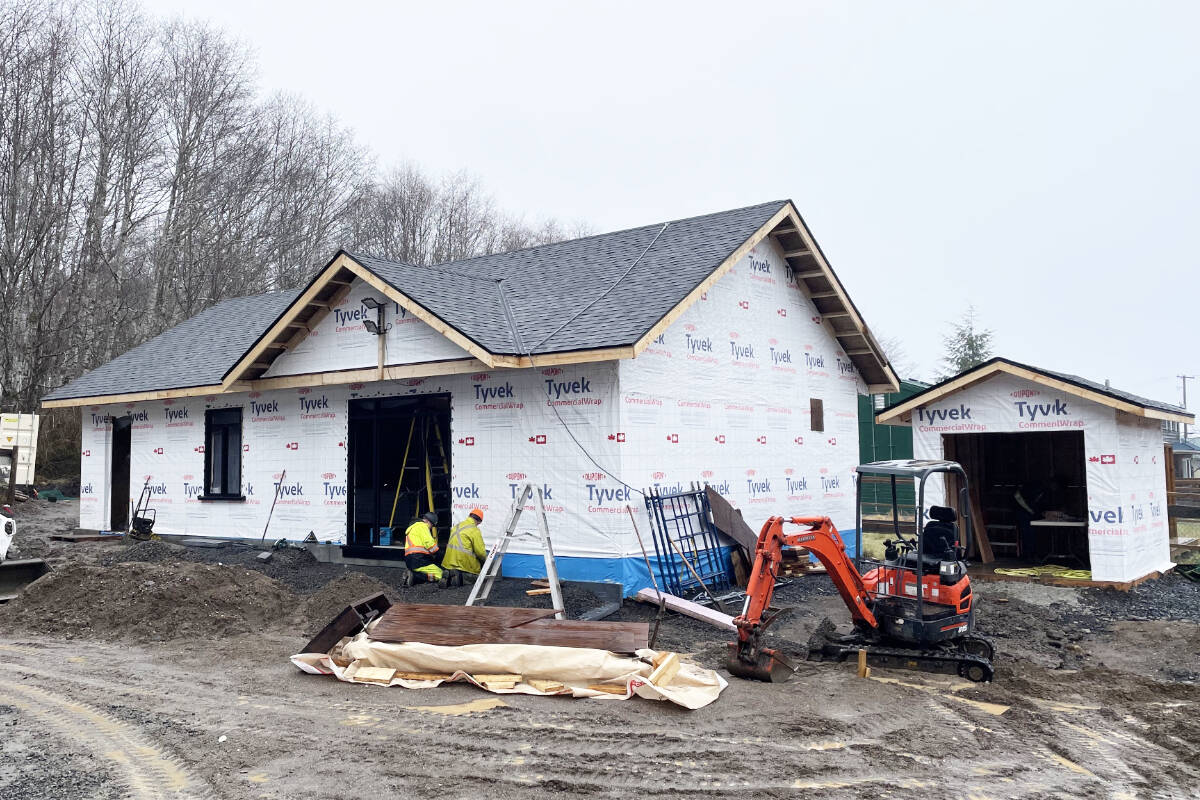 The new Kingdom Hall is being built on May Ave. in Port Clements and Correia estimates it will cost $435,000.
The money to pay for it was raised entirely through voluntary donations rather than through collections or tithing (a practice where congregants are expected to give a prescribed amount of money on a regular basis), Correia said.
The project is expected to be completed by mid-March.
Volunteers began working on the structure Jan. 3 after pouring the foundation in December 2022.
"The roof is already on and shingled, we have windows installed and we're starting interior framing of the walls today," Correia said on Jan. 13.
It is anticipated more than 100 people from across the country will volunteer to be part of the construction crew. Already people have travelled from Vancouver and Edmonton on their own dime to help.
All volunteers pay for their own travel arrangements. However, about 12 members of the island's congregation are offering their homes for volunteers to stay at.
"Admittedly, we're all living in stressful times. But we find that satisfying work and at the same time, remembering our Grand Creator gives us purpose," Correia said.
"This project and volunteering in this manner provides both of those things so there's always a lot of interest to participate in volunteering for a project like this."
The existing Kingdom Hall in Masset was built in 1976.
"This new Kingdom Hall, both the size and the location, will better suit the needs of the community of Jehovah's Witnesses there," Correia said.
The new building in Port Clements will be more central and accessible to congregation members who live at the south end of the island, in comparison to the existing meeting location in Masset, which is at the northern tip of the island, he said.
It will be slightly smaller than the previous building but will offer more current amenities and features.
"It's going to be a very welcoming, dignified place that we warmly invite the community to attend as well, " Correia said.
He explained that anyone from the community is invited to attend a meeting.
"They truly are designed to help people understand the Bible better and to apply its principles in their lives. And we use the Bible as our textbook because we view the Bible as both inspired word from our Creator, but also a very valuable guide to modern living."
Applying advice from a meeting can provide physical and emotional health benefits, as well as improvements in family life and personal relationships, he said.
"And that invitation to people of all cultures really comes also straight from the Bible. It's from Revelation chapter 14, verse 6, it says that everlasting good news is to be declared to every nation and tribe and tongue and people."
"So we sincerely hope the community feels welcome to come and meet some wonderful people and enjoy a meeting there once it's complete."